"Liebster Award"
Yep. Wir sind nominiert worden von Emmely dem Indianermädchen mit den Streifen auf der Nase oder besser gesagt von Frauchen Lizzy die sich sympathischer Weise genau wie ich auch nur die Hundenamen merken kann.
Und wie wir, gehört sie auch zu den Dogblogger Welpen, wobei unser Zustand noch eher der, mit geschlossenen Augen, ist.
Ich habe mich trotzdem riesig gefreut, danke liebe Lizzy für deine Nominierung !
Hoffe, dass mir beim Schreiben  auch elf gute Fragen einfallen die ich dann weiter reichen kann.
Hier nun erst einmal unsere Antworten.
1. Ist dein Hund eher der Stürmer, der schon vor dir alles gesehen hat – oder eher der Trödler, der noch Ewigkeiten an einem Grashalm schnuppert?
Ich würde mal mit den Worten meiner Dummytrainer antworten: "You are to slow for your dog" 🙂 und wer mich ein bisschen kennt, weiß, dass ich nicht eine Sekunde still sitzen kann geschweige denn mal nix sagen. Also nein, Apple und Brooklyn gehören zu den Speedjunkies.
2. Worauf kaut dein Hund am längsten?
Am liebsten kauen die beiden auf dieser südamerikanischen Kauwurzel, die splittert nicht und ist unverwüstlich. Aber wehe dem einer von den beiden lässt sie aus dem Maul fallen. Leider schon vorgekommen und direkt auf den Fusszeh. Natürlich auf meinen 😉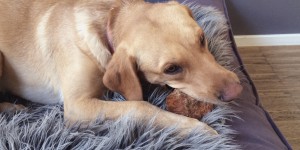 3. Must- have beim Gassi gehen? Außer dem Hund 🙂
Eine Pfeife. Ich hasse es wie eine bekloppte nach Apple und Brooklyn zu rufen. Und mein i-phone 😉 um ihre Wahnsinnstaten festzuhalten.
4. Zähne reinigen? Wie macht ihr`s?
Bei jeder Frischfleischbestellung gibt es Fleisch am Knochen.
5. Gute- Nacht- Ritual. Habt ihr eins und wie sieht das aus?
Oh ha. Ja das haben wir. Nach der letzten Runde werden die beiden nochmal an den kuscheligen Ohren gekrault und ich muss ihnen ein Kuschelküsschen geben. Zum Glück lesen das nur Hundeverrückte.
6. Trefft ihr euch mit großen Hundegruppen? Geschwister, gleiche Rasse oder einfach Kumpels?
Bei unserer morgendlichen Joggingrunde um die Alster treffen wir immer die gleichen Verdächtigen. Gewohnheit kann auch was Schönes sein 🙂 aber am Schönsten ist es wenn wir Schwester Yankee treffen. Die Tochter von Apple. Dann ist die Freude bei den Vier – und Zweibeinern gross. Die drei rasen dann im Affenzahn ihre Kilometer ab und ich kann einen schönen Laufplausch halten.
Dann treffen wir uns regelmässig zum Dummytraining mit gleichgesinnten bekloppten Retriever Besitzern.
7. Nervigster Satz von anderen Hundebesitzern 🙂
Definitiv der Satz: "Was ist das für eine Rasse?"
Ich: "Ein Labrador".
Er: "Der ist aber nicht reinrassig".
Ich, mittlerweile etwas genervt: "Doch !!! Das ist die Arbeitslinie!"
gleich gefolgt von: "Die sind aber noch jung?"
Ich: "Nein, das sind Mutter und Tochter".
"Häh? Wie geht das?"
Ich weiss, nicht jeder kennt sich damit aus. Aber wenn ich dann sage, dass der Deckrüde auch gelb war und dann die Frage kommt, ach dann sind die nicht gefleckt, bin ich nervlich am Ende 😉
8. Allesfresser oder Mäkelfritze?
Leider! Allesfresser, gerne auch im Gebüsch. Ich erspare euch Einzelheiten. Aber witzigerweise ist Brooklyn echt manchmal komisch neuen Fleischsorten gegenüber eingestellt, da wird dann das Gemüse fein säuberlich gegessen und das Fleisch bleibt liegen. Ist nicht gerade rassetypisch. Wenn sie das mal machen würde wenn wir an der Schule vorbei fahren und sie aus dem Gebüsch die alten Schulbrote entdeckt 😉
9. Mit dem Hund im Urlaub – warst du schon und wenn ja, wie weit?
Als im Mai vor 5 Jahren Apple bei uns einzog haben wir das erste mal keinen Strandurlaub gemacht sondern sind in die Berge ins Allgäu gefahren. Und in den letzten Jahren immer wieder auf Sylt gelandet, weil ich es nie zwei Wochen ohne die beiden aushalte. Das nenne ich Liebe zum Hund, weil als süddeutsches Pflanzerl mag ich es eigentlich gerne warm im Sommer. Die Urlaube auf Sylt sind unschlagbar. Morgens am Watt joggen und dann den ganzen Tag mit den beiden unterwegs. Außerdem sind Hundebesitzer die nettesten Strandkorbnachbarn.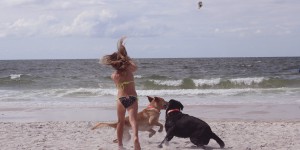 10. Marotte deines Hundes
….Hmmm…mir fällt nicht wirklich was ein. Oh doch, seit neuestem schläft Brooklyn nachts auf dem Sofa und nicht auf einem der beiden sau teuren Kissen.
11. Deine Marotte 🙂
Ich muss ständig raus an die frische Luft und mich bewegen. Und ich bin lauf- und cafesüchtig 😉
Es hat mir sehr viel spass gebracht. Ich hoffe es war nicht zu lang (kurz fassen ist nicht meine Stärke)
Die Nominierten sind:
Ricarda von und dann kam Lilly.
Anne von Lottaleben
Katja von Serendipity is life
Ich bin gespannt auf eure Antworten zu:
1.Hast du auch einen Kosenamen für deinen Hund?
2.Wer isst gesünder?
3.Wieviel Halsbänder und Leinen besitzt du?
4.Durften deine Hunde schon mal bei dir im Bett schlafen?
5.Fährst du auch ein "Hundeauto"?
6.Was sagt deine Familie zu deinem Hundefimmel?
7.Kennst du mehr Menschen mit – oder ohne Hund?
8.Hast du auch schon einmal die Ausrede: "Äh ich muss noch mit dem Hund raus!" benutzt um schnell irgendwo weg zu kommen?
9.Wie findest du die Idee in Kindergärten und Schulen Begleithunde einzuführen?
10.Begleiten dich deine Hunde auch überall hin?
11.Fällt es dir auch so schwer elf Fragen zu formulieren?
Bedanke dich bei dem Blogger, der dich nominiert hat und verlinke seinen Blog.
Beantworte die elf Fragen.
Formuliere selbst elf Fragen.
Nominiere bis zu elf weitere Blogs und bitte sie deine Fragen zu beantworten.
Informiere die Blogger über ihre Nominierung.
Ich wünsche euch einen sonnigen Sonntag. Eure Mel